First off, I have to apologize to those of you who missed my weekly post on bridal social media – I was on vacation. But where does a social media geek go on vacation, you ask? My trip took me to our mecca – the place where the best and the worst that the internet has to offer is born, where Justin Bieber has his own dedicated serve and Ashton Kutcher comes for regular catch-ups: Yes, I was at Twitter.

The offices were amazing, including a full-time all you can eat cafeteria for the Twitter staff and guests – I happened to be there on steak and crab day. More interesting to me however, was some of the new features that Twitter has coming up for its users.
The features are going to make the 140-character platform all the more useful for brands, especially ones that have visually appealing content to show their followers.
In-Stream Media
Displaying media in expandable tweets is something that's been around for a few months, but most users have yet to take advantage of it. Now images and streaming video can be viewed right in a user's Twitter stream rather than bouncing the user out to see a link and then expecting them to come back and check out what else you had to say.
Promoted Tweets
For those with the budget, the promoted tweets offering just got a whole lot more appealing. You can now pay to have a tweet appear only to a specific set of people based on keywords in their bios, and topics that they tweet about. This is significant for brands because it means that they'll be able to target exactly who's interested and have the best chance to turn those people into customers.
Rich Media Ads
You know how the high-fashion sites that you go to have interactive ads that change when you roll your mouse over them, and can conduct pools or collect information right there in the ad? Twitter is going to make that available to accounts that advertise with them very soon.
Enhanced Brand Pages
Right now, only the big boys have access to enhanced pages – Nike is one of those pages. The enhanced features include:
Custom cover image
Promoted Tweet – much like a Pinned post on Facebook
For a cost for $15-$25k in ad spend in order to get an enhanced profile, the price is a bit steep, but those pages may be rolled out to all brands in the near future.
Finally, after learning about all of the new features I had to take a few phone meetings so I was directed to the outdoor board room where I had thousands of square feet of rooftop patio space to myself.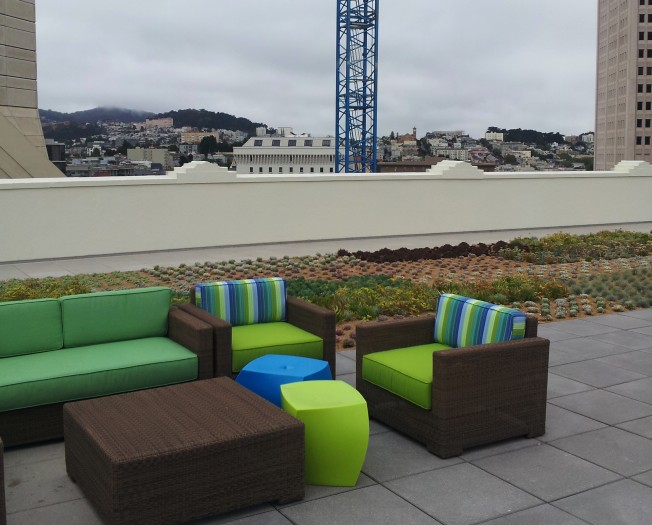 The visit was as informative as it was a rush for someone like me who has spent the past few years glued to Twitter.
If you have any more questions about what's up at Twitter, or around the social media industry, hit me up on the Twitters anytime at @JunctionYVR