Are you Fully Booked this Summer & Fall?
If yes, congratulations! You are having another great year ☺
But if you still have summer & fall wedding dates to fill, this far into the planning season,
(First Day of Spring today!) don't stress.
Plenty of Brides still Looking..
There are still a lot of brides planning their weddings and looking for services. For example, over a thousand new, first-time users join the Bride.Canada website each day.
Even though it may be too late for magazine/print ads or even for booking a booth at a wedding show, you can still reach your customers, quickly and efficiently, online.
..But your Spring Budget is Limited
And yes, we know how tight your cash-flow and receivables are right now, at the end of Winter, before the work season begins. No way you should have to commit to some large marketing campaign. You need not worry about that before the end of Summer.
Not a Problem!
So we 've done just that: we have created a short but powerful promotional package, to give you as much exposure as possible right now – for the next 3-months in fact – for the lowest price. It is basically 6-months' worth of marketing, condensed into three.
Just what you need to connect with as many 2014 brides as possible, as quickly as possible, fill as many of your remaining 2014 dates as possible. Immediate, powerful & affordable. We call it …

What is Included?
Top-Ranked Directory Listings in all our sites,
including of course Bride.Canada, but also one our regional Bridal Network directories (weddings.ca, bridalguide.ca, completeweddings.com &tc.)
This ensures that brides looking for a service like yours will find you right away

In fact, your listing includes an annual membership, so even after the three months, it may not be top-ranked but it will remain active, referring customers until next Spring.

A 3-Month Ad Campaign on all our sites.
The banners will run at their maximum "throttle" for three months. In practice this means ~5,000-6,000 ads shown, depending on city size.
Promoted Deals & Special Offers.
Post a deal for our users: Ex. "15% discount when you mention bride canada".

This gives us focus to promote your offering on Social Media.
(facebook.com/bride.ca & twitter.com/bride_ca)
It also gives you a way to track the campaign. How many people will contact you and mention the deal?
What Does it Cost?
Not very much at all! Packages start from as little as $375, depending on your city & category.
The cost also includes ad design. Send us your favourite image, your logo and (if applicable) your message and we make the banner ad for you – no need to hire a graphic designer.
Download the PDF Brochure for a full rate card
Questions? Want to Sign Up?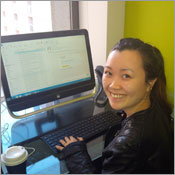 We have set up
a dedicated email address spring.ahead@bride.ca
and a dedicated phone line: 604.737-7755 x202
(toll free: 877.437.7755 x202)
Hannah is standing by to help you!