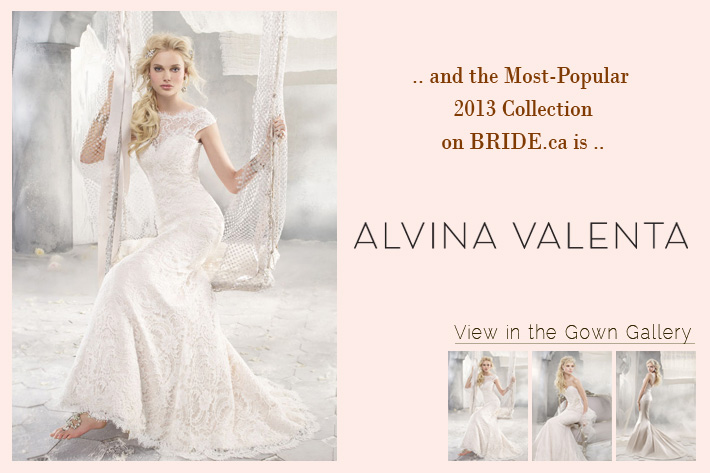 Our First Fashion Intelligence Reports for 2013
Hot of the presses (i.e. the Bridal Network computer servers!) here are our first insights at what the brides are expecting, from wedding fashion retailers in 2013. The information below was compiled from the collective behaviour of ~5,000 Canadian brides, between December 2012 and February 2013, on the BRIDE.Canada Gown Gallery. We present here the raw data, as well as a basic analysis of what the numbers tell us.
 These reports reveal some very interesting trends and statistically accurate information; but keep in mind: they depict the brides' state of mind while researching their dresses on the internet.  In real life, factors such as presentation, service, salesmanship etc will make a very real difference.
Our data is limited to those gowns currently "on display" in the gown gallery (500+ dresses in 40-odd collections) We are constantly adding new gowns and new designers. If yours is not yet included, please get in touch with us, make arrangements to feature your inventory on the gallery.
Most Sought-After Designers: Getting the Brides' Attention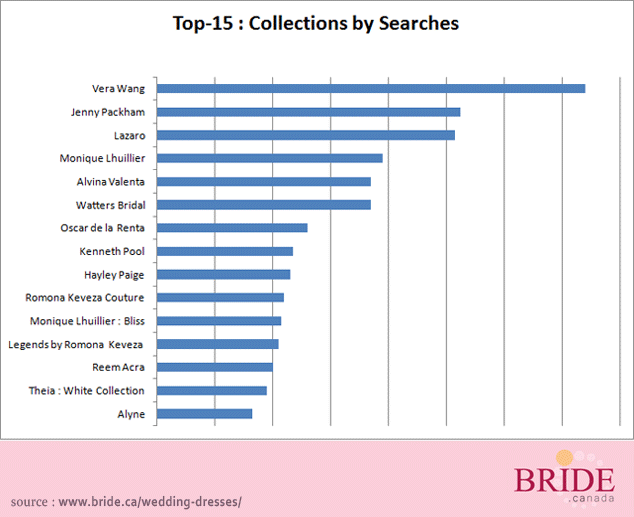 What this list shows, effectively, is which bridal designers have the most brand-recognition in Canada. The brides are asking for these collections, by name. Not surprisingly perhaps, Vera reigns supreme!
Some of the Most Popular Individual Dresses
Most Engaging Collections: Piquing the Brides' Interest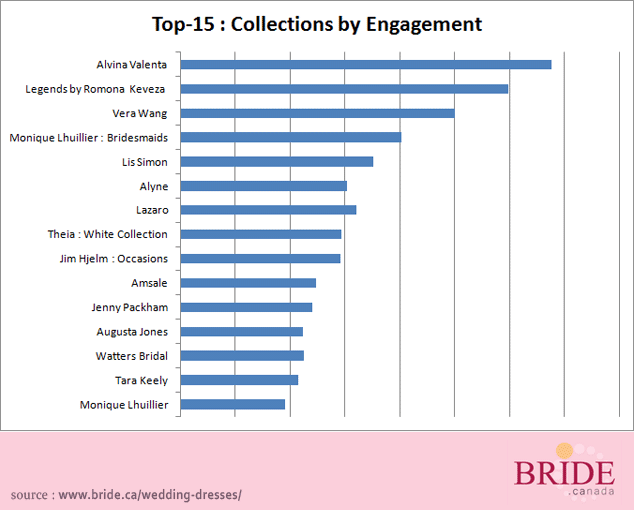 This is where it gets really interesting: regardless of what the brides may have been looking for originally, these are the collections that ultimately capture their imagination. They click, share, "like", shortlist and email (usually to their mom!) these dresses the most. If the first list are the gowns that will bring them to your store, this second list seems to be the gowns that will keep them there!
The first two are noteworthy:
Alvina Valenta we were concerned with. It happens to be alphabetically the first collection in the gallery, followed by Alyne. So naturally one would expect it to "outperform" the remaining collections, simply because the brides see it first.
So our reporting algorithm was built to account for that, quite heavily too. The report weighs engagement against rank in the gallery. What you see here, is almost half the nominal activity on Alvina Valenta – yet still enough to rank #1!
Romona Keveza's Legends collection appears to be the fan-favourite though. Few brides seem to search for it by name (probably because they cannot anticipate the differences from the Couture collection). But once they look at it, they certainly seem to fall in love with it!
Budgeting & Pricing : What Brides would rather Spend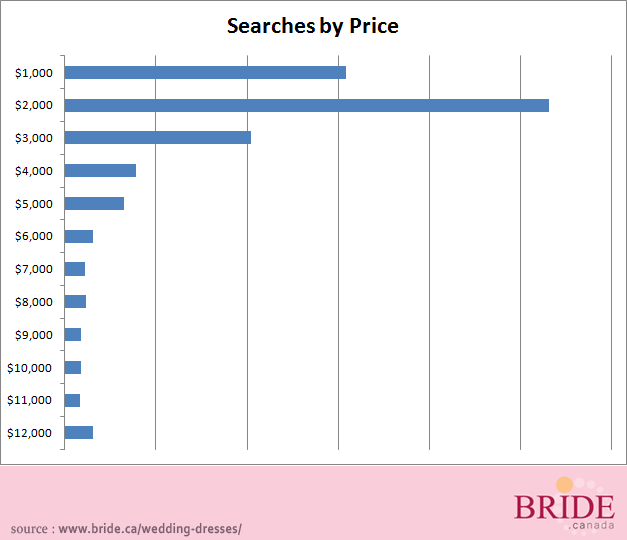 No surprise here!
Yes, the economy is still "recovering". Yes, the brides are still very price-conscious. But at least also "yes", they seem to appreciate that a $1,000 dress is probably not worth the investment. Notables:
You can't tell from this graphic, but the $3,000 segment is quite larger than it was back in September-October. So things are getting better…
There is a promising little "bump" around the $8,000 mark. Hard to tell on this scale – the following report clarifies it a bit.
We are effectively ignoring the $12,000 figures. Naturally, many brides will be curious as to what the top-dresses look like, so they search for them – once. We therefore do not consider that "spike" as representative of the actual marketplace.
So, should you rush to stock your boutique with $2,000 dresses then? We think not. The question that we would love to answer is:
Would you rather sell 500 $2,000 dresses or 100 $5,000 dresses?
Our quest for an answer has led to this last report. It is not quite tongue-in-cheek. Still, we have had to make a number of assumptions, on staffing, floor space, overhead etc. Which we then combined with all the data above, into a complex algorithm – and finally we confirmed its projections with actual retailers. The report comes closest to a "very educated guess" – probably accurate to within 20% …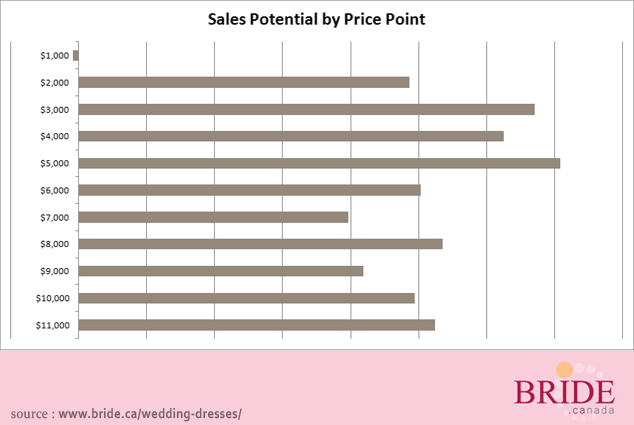 What does this mean? It means that in today's economy, right now,
The bottom has fallen out of the low-low-end market. You should probably not try to cater to the $1,000 wedding dress segment (unless you can do economies of scale like David's Bridal!). The volume is not really there to realise any meaningful profit at such low margins..
Other than that, no segment really seems to stand out. So find the niche that suits your style, your community, your local economy and specialise!
Having said this, there seems to be a "sweet-spot" around the $3,000-$5,000 price-tag (below that you will have to work very hard!) and another niche around $8,000-$9,000
Once Again: these figures are based on what brides have been searching for, right now (during the past 90 days). They are by no means sufficient to be used as the basis for long-term business planning. For that, you will have to wait for our next reports, (April, July, October) and try to establish what the long-term trend is. The direction to which the market is moving.
If you have any questions or suggestion on future reports, do not hesitate contact us via email or telephone. If you wish to participate in the BRIDE.Canada gown gallery program, start here.