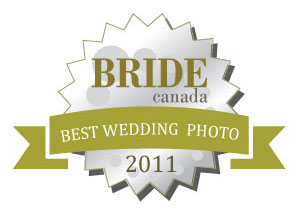 It's that time of year again!
The 2011 BRIDE.ca Wedding Photo Awards will be announced in three weeks – March 30th. Hopefully everyone has had enough time to wrap up post-production on even the latest 2011 events, from Christmas etc because
the submission deadline is March 23rd, Friday, at midnight PST.
A Bit of Extra Publicity for Everyone too..
Please notice: Unlike the seasonal "people's choice" winners of the Engagement Photo Awards, we are not inviting people to vote for the favourite wedding photo on facebook. This is not a popularity contest; the winners will be selected by our panel.
Submission Guidelines
One photo per-couple / maximum five photos per-photographer;
i.e. you can submit up to five photographs, but they must be from a different event each.
Photos must be from 2011, in Canada, by a Canadian photographer.
Submission Deadline: March  23rd 2012.
File Specs: JPGs, min 1000px wide, max file-size: 500kB
Simply Attach your images to an email

Subject : "Wedding Photo Contest 2011"
Email to : contest[at]bride.ca
Include the couple's names and, if possible, their email address, in case we require a special release (eg. the winners are featured in print)
Also include the date & place of the photograph.

Our Judging Panel

: as always, our in-house editors, a guest-shooter, as well as our partners, the editors-in-chief of Real Weddings magazine, Elegant Wedding Magazine and the producer of the Calgary Wedding Fair, our good friend Mrs Kathie James.

Legal Stuff

: this is our contest; we like things simple; only two rules:
Bridal Network Inc reserves the right to accept/reject images and to disqualify contestants, at our own discretion, if we determine or suspect that either the letter and the spirit of the contest is violated. [during the last Engagement contest, someone hired an outfit in Malaysia to generate fake Facebook likes! Then argued that we did not have the legal authority to remove their photo from the finalists...]
By entering the contest, you are giving Bridal Network Inc a non-transferable license to feature your image(s) on either bridalnetwork.ca, or BRIDE.ca (and their facebook pages), in reference to the contest / photography awards. [If we feature the winners in print (in 2011 the winners were featured in both Real Weddings and Elegant Wedding magazines) we will require a separate set of releases, including the couple's authorisation etc ]